This easy Pumpkin Marinara is perfect for any night of the week! Rich, full of tomato-y goodness and a hint of fall. Great on pastas, pizza & lasagna!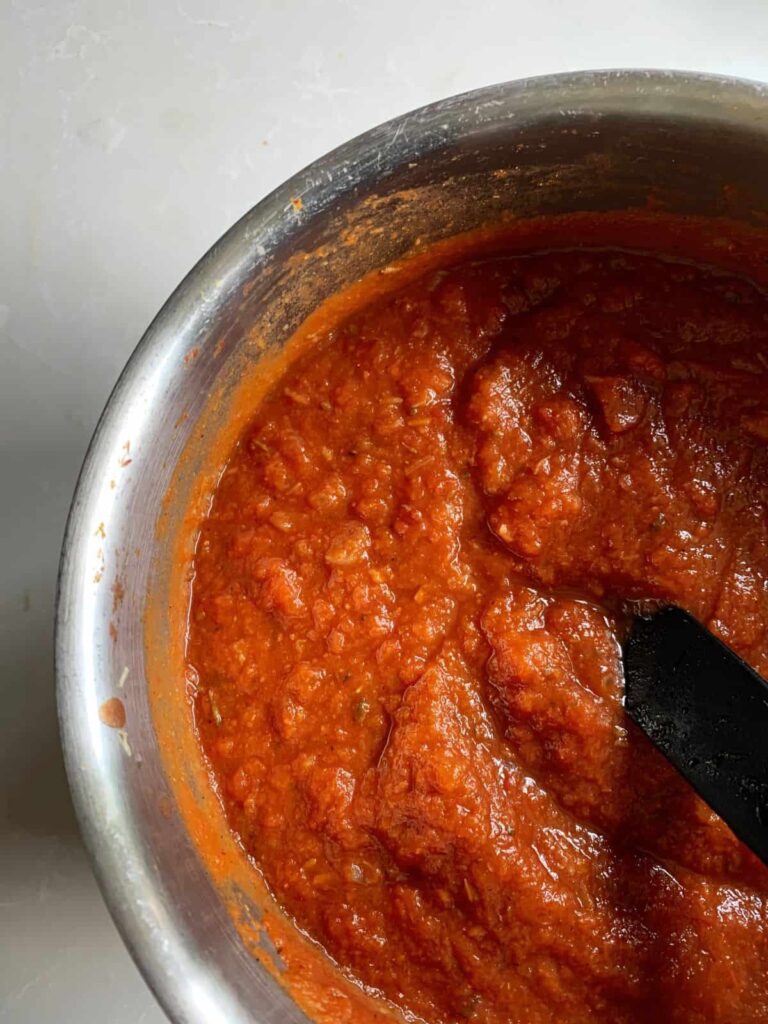 Here's an easy fall staple you can come back to again and again. 🎃
You know those days of just letting a sauce simmer on the stove all day and the house just smells so warm, inviting and cozy?? 🥰 Those are just the best.
I'm all about those days, but if I'm being real, they RARELY happen in the phase I'm in. Life is crazy and quick meals are my savior. I made this sauce recipe to have that same feeling, give your house that warm aroma and just make you feel happy inside... in a fraction of the time. Not to say you couldn't leave it simmering all day, 'cause I'm sure that would be even more amazing too.
Marinara by definition is a sauce that is full of herbs, tomatoes and onions and typically served over pasta. This Pumpkin Marinara has the same basic starting point, but with a twist; pumpkin (obviously) and fall spices!
This homey, fall inspired sauce is wonderful over pasta, raviolis, lasagna and pizza! But the options are really just endless.
The makings of a yummy Pumpkin Marinara
Lets grab our ingredients!
sweet onion & garlic - the keys to that initial "oooo, that smells good! what are you making?!"
herbs galore- oregano, thyme, cinnamon, red pepper flakes (if you like it spicy) and salt n peppa
veggie broth (or water, just adjust salt as needed)
crushed tomatoes - any variety is great! I like to grab the can with the basil
pumpkin puree! - not the pie variety, just plain ole pumpkin please!
balsamic vinegar- adds a depth to your sauce with a hit of acid and a touch of sweet 😍
Your sauce comes together in a few simple steps...
Sautee your onions and garlic. Start with the onion & garlic until just translucent or starting to brown. I water sauté everything in my house, which just means add in a splash of water (or broth) as your food begins to stick. You are more than welcome to use a bit of oil at this step if you prefer!
Add in those herbs and toast for a minute to really get those yummy smells going in your house.
Deglaze with your broth. Mix real well to get any browned bits of the bottom of your saucepan.
Mix in your pumpkin and tomatoes and simmer on low heat to get those flavors going. You can choose to do this for 20 minutes or however long you like... just make sure you stir it once in a while.
Remove from heat and stir in your balsamic. Taste and adjust as desired with salt, pepper, red pepper flakes for more heat or balsamic for more acid.
Enjoy!
Pin it for later ⬇
Did you make this recipe? Please leave a comment and ⭐⭐⭐⭐⭐ rating below! Take a picture and tag me on Instagram @samcookskindness !
Here's a few go-to's that pair perfect with this sauce! ---> Lasagna Dip & Quick Vegan Ricotta
Recipe
Simple Pumpkin Marinara
Easy, warm & cozy marinara sauce! Infused with fall flavors and perfect for pasta or pizza! Vegan | oil free
Ingredients  
½

sweet onion

medium

4-6

cloves

garlic

1

teaspoon

cinnamon

1

teaspoon

thyme

½

tablespoon

oregano

½-1

teaspoon

red pepper flakes

optional for spicy

1

teaspoon

sea salt

½

teaspoon

pepper

1

cup

vegetable broth

low sodium

1

can

pumpkin puree

1

28oz can

crushed tomatoes

1-2

tablespoon

balsamic vinegar
Instructions 
Dice sweet onion small and press or grate garlic cloves.

In a medium saucepan over low heat, add prepared onion and garlic. Sautee for about 5 minutes until onion is translucent. Stir occasionally and if it begins to stick, add small splashes of water.

Add cinnamon, thyme, oregano, sea salt and pepper to saucepan with onion and stir to combine. Pour in broth to deglaze pan, stir to break free any brown pieces from the base of the pan.

Stir in pumpkin puree and crushed tomato. Reduce heat to low and simmer for 20-30 minutes.

Remove from heat, stir in balsamic vinegar. Taste and adjust salt and pepper as desired.

Use sauce as desired, pasta, pizza, lasagna, anything you like.
Notes
Storage- Sauce will keep in the fridge for 3-5 days. Freezer friendly for up to 6 months. Defrost in the fridge overnight and warm on the stove prior to use.   Texture tip- This marinara is not super chunky, but depending on the brand of pumpkin and crushed tomatoes you use it may have more texture. If you prefer a smoother sauce, I suggest to lightly blend sauce using an immersion blender to get to your desired smoothness.