wfpb | easy | instant pot & stove top instructions
---
Let's save some money! Let's save some waste! Let's feel like we did something really good for ourselves and the planet!! Enter Instant Pot Vegetable Broth!
This broth is basically the easiest thing to make ever. It's a win-win-win. Win for you, win for your wallet, win for the earth. That's something to feel really good about!
How to save your veggie scraps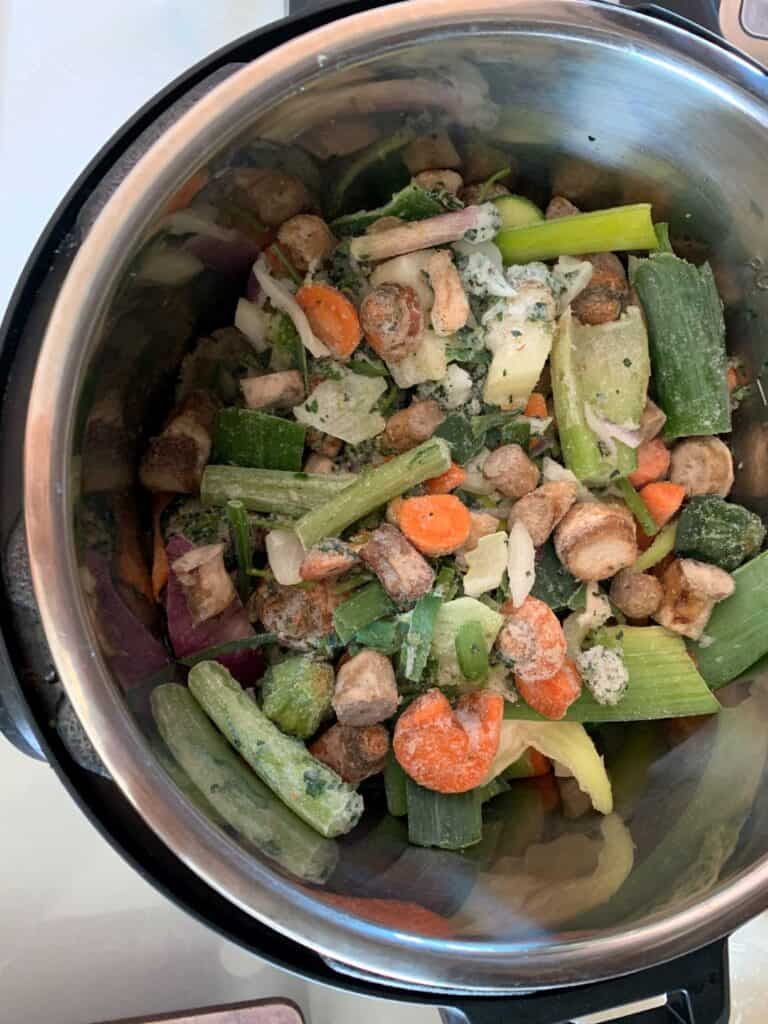 It's easy peasy! Whenever you are chopping veggies keep those pieces that you don't really want to eat. Mushroom stems, herbs, the ends of carrots, asparagus, celery, cabbage, those tough green pieces of leeks... the list goes on and on.
The only scraps I do not save are the papery portion of garlic or onions, as they can leave a bitter taste in your broth. Besides that... it's all fair game!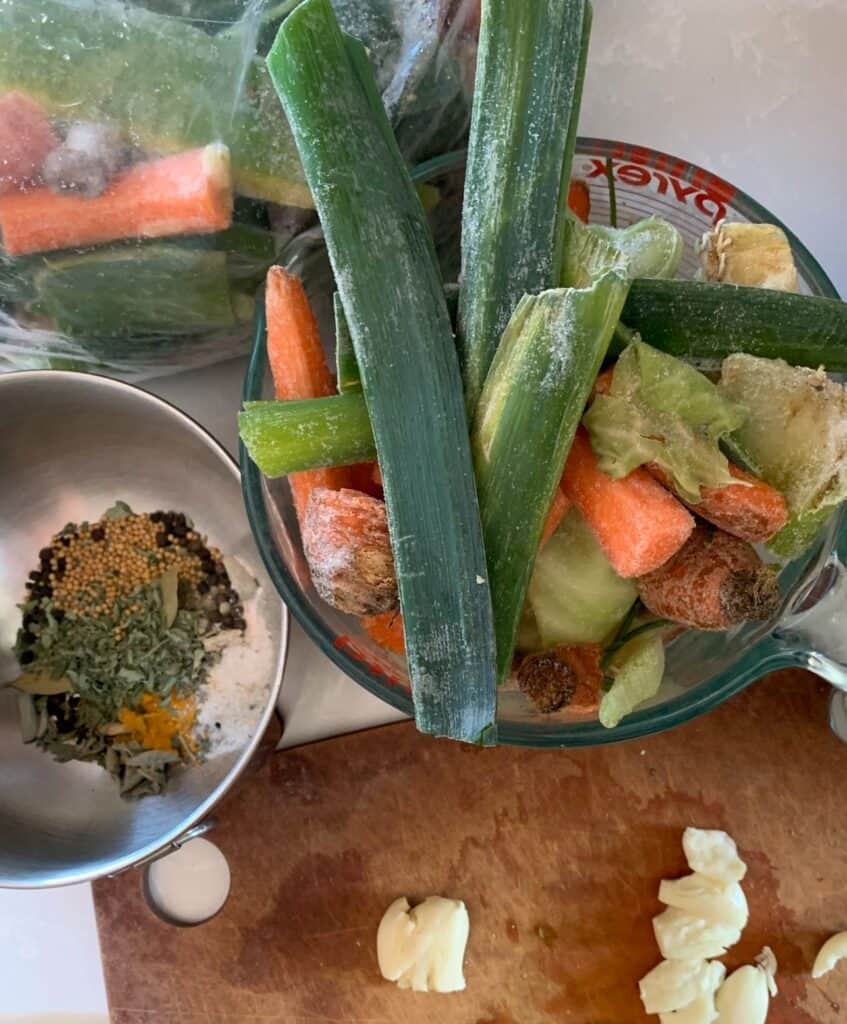 Take those scraps and toss them into a freezer bag or container. When you collect enough, (it doesn't take long!) toss it all into the instant pot and ta-da! Homemade Instant Pot Vegetable Broth!
From here, your used scraps are the perfect addition to your compost pile!
How to use your Instant Pot Vegetable Broth
After your house is full of those wonderful, homey aromatics, I guess you'll probably want to use your broth right??
I like to keep my broth on the less salty side. You can always add more, but you can't add less!!
You're welcome to add more salt to taste if you please, or if you want to just enjoy the broth as is! I know it will come as a shock to you but, I really enjoy using this Veggie Broth in soups! So surprising, I know.
But, also, if you've been following my recipes, you may have noticed that I don't use oil. I mention water sautéing a lot in my recipes. (Like in my Irish Colcannon!). Well, level up the flavors in those dishes a bit by using Broth instead of water!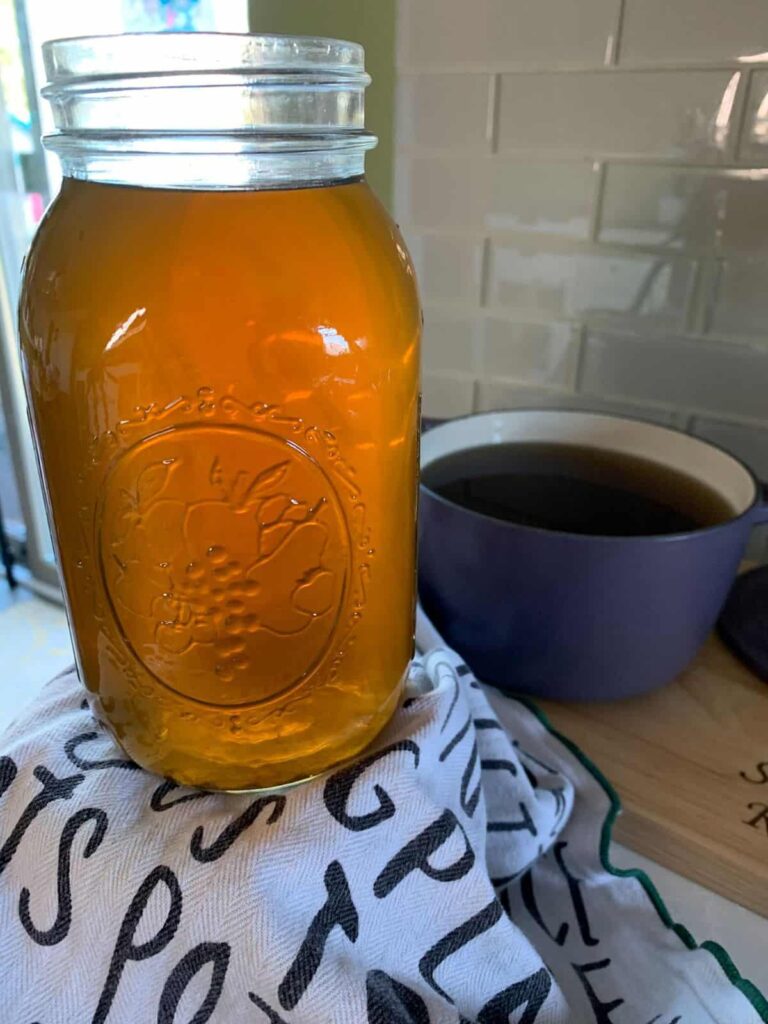 ---
Check out some of my favorite soups to make with this Homemade Broth! Creamy Curried Red Lentil Noodle Soup and Manhattan No-Clam Chowder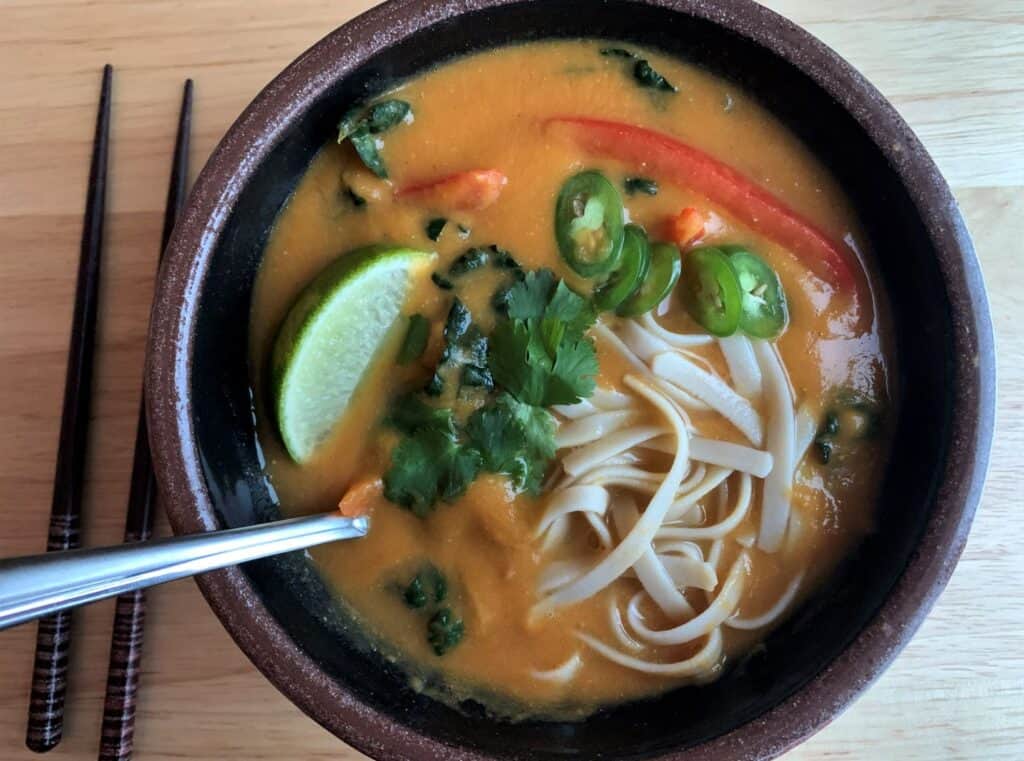 (This post contains affiliate links. If you click & purchase I may receive a small commission at no cost to you.)
Recipe
Instant Pot Vegetable Broth (From Scraps!)
No need for bouillon cubes or store bought broths! Save your money and reduce waste with this super easy veggie broth recipe!
Ingredients
8-10

cups

frozen vegetable scraps

12

cups

water

amount may vary*
Spices
½

teaspoon

sea salt

½

teaspoon

turmeric powder

½

teaspoon

mustard seed

1

teaspoon

whole peppercorns

1

teaspoon

thyme

1

teaspoon

sage

1

teaspoon

dried oregano and/or basil

4

cloves

garlic

smashed or chopped
Instructions
Add all ingredients into Instant Pot. Amount of water may vary, fill only to the Max Fill Line.

Pressure Cook for 18 minutes and allow for natural release.

Adjust seasonings to taste. (I prefer to leave as is and adjust seasonings during use)

Allow broth to cool, strain through a mesh strainer or cheese cloth.

Use immediately or store for future use!
Notes
STORAGE- Broth will keep in the fridge for up to 1 week. Freeze for up to 6 months.
STOVE TOP INSTRUCTIONS- Add all ingredients into a Large Stock Pot. Bring to a boil, then reduce to a simmer for 4-6 hours. Allow to cool and continue with instructions above!
---
Connect with me!
---