This Sugar Snap Pea Salad is a bright & refreshing way to start your summer! It's bursting with tender sugar snap peas, cucumbers & fresh herbs and tossed in a sweet & light mustard dressing!
This Sugar Snap Pea Salad is perfect for when our gardens are just bursting with those sweet, juicy pods.
Typically, my family tends to just pick and snack on fresh snap peas as they show up in the garden, but this year... I may have planted an excess! Which is not a bad problem to have! But it left me wondering what else I should do to enjoy the fresh & juicy pods.
This fresh summer salad is super simple to make, bursting with fresh cucumbers, crisp sugar snap peas, fresh herbs and a simple, sweet mustardy dressing.
This Sugar Snap Pea recipe takes only minutes to make, is vegan, gluten free, oil free and healthy!
Jump to:
Prepping the Sugar Snap Peas
In my mind, there's only two types of Sugar Snap Peas in the world... good ones (you know, from the farmer's market or your backyard when they're in season) and horrible ones (usually the ones from the grocery store). Store bought snap peas always leave me disappointed with the fibrous texture and dull flavor. But those good ones.... mmmm... sweet, juicy, there's nothing like it!
Young Sugar Snap Peas can be enjoyed raw, and you can choose to skip the blanching step in this recipe if you prefer. But I like to give the snap peas a quick blanch to make them even more tender and bring out the sweetness.
Remove the ends from your snap peas, and remove any tough strings. Then slice your snap peas in half on the diagonal and toss into a pot of boiling water for 1 minute. Then quickly drain and put the snap peas into a large bowl of ice water to stop them from cooking any further.
How to remove bitterness from raw red onions
Here's my favorite tip to get rid of the bitterness of a raw red onion: Start by slicing your red onion as thinly as you can. If your onions are bitter toss them into the ice water that you have prepared for the snap peas! Letting them sit in ice cold water should cut any bitterness away.
Preparing the Cucumbers
Cucumbers are an ingredient that could easily be omitted from this recipe if you prefer. I chose to add them to this recipe because I love cucumber salads and they pair so well with the sweet sugar snap peas and fresh herbs in this dish.
To prepare cucumber : Slice the cucumbers very thinly or use a mandolin or box grater. Lightly toss with salt and place into a colander over a bowl to allow extra juices to fall away so your salad isn't super watery. (You can skip this step if the extra cucumber juices don't bother you)
Fresh Herbs
Fresh herbs are a must for this recipe! My garden is overflowing with mint, and it pairs so well with the Snap Peas, so that's what I used.
I also think that fresh basil and dill would also be delicious additions to this salad!
Simple & Sweet Mustard Dressing
When you're all your other ingredients are ready, grab a large bowl and whisk together this blend of simple ingredients to make your dressing: mustard (dijon & stone ground), agave, garlic and a quality white balsamic vinegar.
A good quality white balsamic is the key to this salad. It's sweet, only lightly acidic and really complements the sweetness in the sugar snap peas.
My absolute favorite to use for this recipe is the Lemon Zest White Balsamic from Olive Oil Etcetera. I buy it in the biggest size they offer and always make sure I have a bottle on hand for easy salad dressings. I'm not affiliated with them, I'm just obsessed.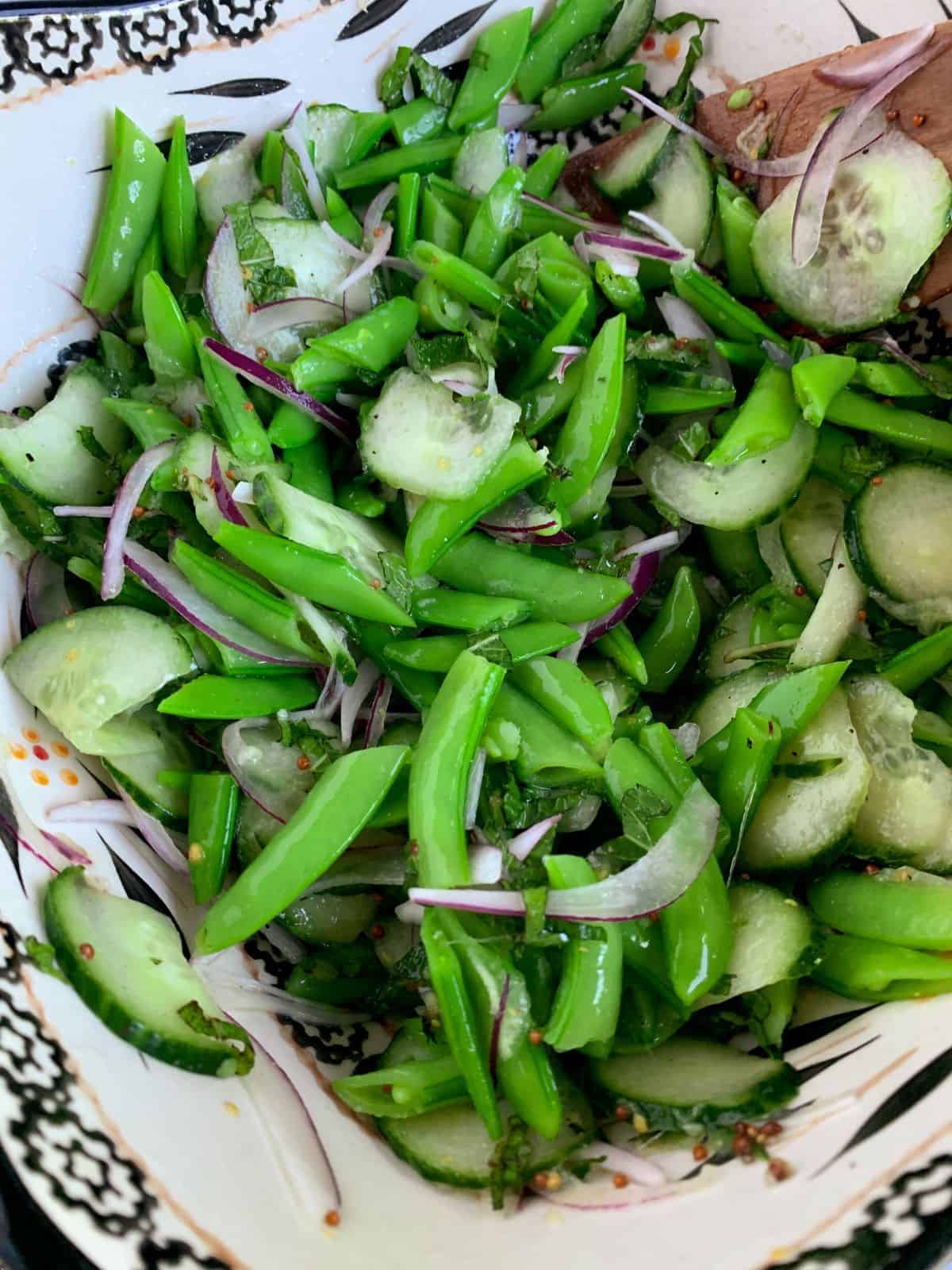 Storage
This salad is best served fresh! It will keep in a sealed container in the fridge for up to 3 days. Keep in mind that you will notice the color of the snap peas fading as they sit. They are still good! Just not as vibrant green.
More summer salads
If your on a summer salad kick like me you have got to check out these recipes too!
Did you make this recipe? Please leave a comment and ⭐⭐⭐⭐⭐ rating below! Take a picture and tag me on Instagram @samcookskindness !
Recipe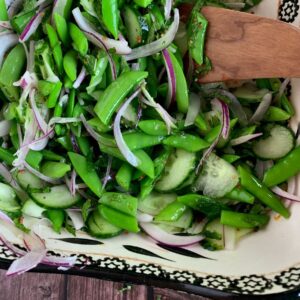 Sugar Snap Pea Salad
This bright, crisp salad is the perfect summer side dish! Vegan, oil free and bursting with the sweet flavor of sugar snap peas!
Ingredients
12

ounces

sugar snap peas

washed, ends & strings removed

½

cup

english cucumber slices

thinly sliced by hand or box grater/mandolin

½

small

red onion

sliced paper thin (or as thin as you can)

½

cup

fresh mint (or other herb of choice)

thinly sliced
Dressing
¼

cup

good quality white balsamic vinegar

eg Lemon Zest Balsamic Vinegar from Olive Oil Etcetera*

2

teaspoons

dijon mustard

2

teaspoons

stone ground mustard

½-1

clove

garlic

pressed or finely grated

2

teaspoons

agave syrup

salt & pepper to taste
Instructions
Start by prepping all your veggies. Cucumbers and red onion should be thinly sliced by hand or with a mandolin. Sugar snap peas should be washed, have ends and any fibrous strings removed and sliced in half on the diagonal, and fresh herbs should be thinly sliced or chopped.

Place sliced cucumbers into a colander, toss them with a pinch of salt and place colander over a bowl or sink to allow excess water to drain off of them.

Bring a large pot of water to a boil. While water is heating up, grab a large bowl and fill it with ice and water. If your red onion is bitter, add it to the ice water bowl now to cut the bitterness.

Once water is boiling add the snap peas and cook for 1 minute. Carefully drain off boiling water into sink and then add the snap peas into the ice bath you prepared to stop the cooking process.

While they cool, to a large bowl add all the dressing ingredients and whisk together.

Remove any remaining ice from onion and snap peas and drain off the water. Dry as best you can by allowing it to sit or using a clean tea towel to pat dry. Add sugar snap peas, onions, herbs and cucumbers to the bowl with the dressing. Mix to combine and add salt & pepper to taste. Enjoy!
Sign up and stay in touch!