This Cashew Date Frosting is simple to make, sweetened only with dates and requires 4 ingredients to make! A decadent and thick frosting that is perfect to frost your favorite cakes, cupcakes or cinnamon rolls!
I'm so in love with this frosting I just can't. It's a twist on a basic frosting, but homemade and refined sugar free. It's thick, creamy, just sweet enough with a touch of salt. The blend of cashews and dates gives this frosting a sweet, rich vanilla caramel flavor that is amazing on top of these Vanilla Oat Cupcakes.
There's a time and a place for good old traditional frosting. But this is not for those times.
Why you'll love Cashew Date Frosting
I'm so happy to live in a world where this frosting exists.
I can't count the number of times I've made a more traditional frosting and ended up licking so many bowls, spoons, spatulas.... to the point of unintentional and regretful sickness. 🤣
You can't tell me that hasn't happened to you. I feel like if you've iced a cake or make frosting for any reason, you've definitely licked your fair share of spoons.
So ANYWAY, this Cashew Date Frosting is the absolutely perfect substitute, when you want sweet treat but don't want to eat a pound of powdered sugar and butter. It's so rich, thick and creamy. Just enough sweetness and holds up to piping!
I'm serious. Don't scan by this recipe 'cause you think it's not the "real thing" or just a "healthier" version and won't be as good. IT'S GOOD. It holds up for basic decorating, it's got a sweet caramel-y flavor with just a touch of salt, you're head will be reeling.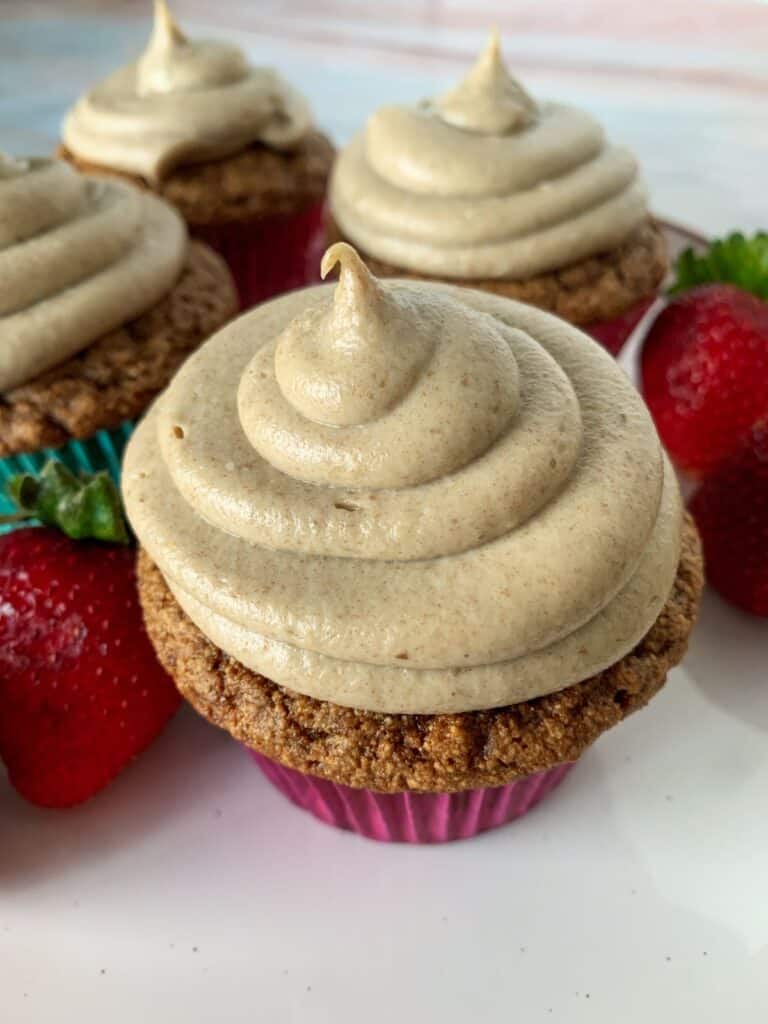 How can I use this Frosting?
Use it however your little heart desires.
Cupcakes. Cake. Cinnamon Rolls. Muffins? Pancakes?!? Um, sign me up for that one PLEASE.
Can I Pipe it?
YUP! It will thicken a bit more in the fridge as it chills. Just give it a quick mix and add to your piping bag and pipe away!
You could also use a knife or spatula to frost, however you prefer of course!
Do I need a high power blender?
For the best results I would recommend it. If you do not have one, but would still like to give this a go. I would recommend soaking your cashews in water overnight and adding the dates in to soak about an hour before you are planning on making the frosting.
How long does Cashew Date Frosting last?
Probably not long if you live in my house. 😂
It will stay fresh in your fridge, in a sealed container for about 5 days. For the best thickness and texture, I do not recommend storing on at room temperature.
You might also want to check out
Did you make this recipe? Please leave a comment and ⭐⭐⭐⭐⭐ rating below! Take a picture and tag me on Instagram @samcookskindness !
Recipe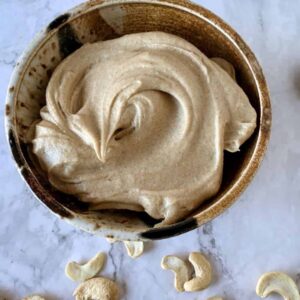 Easy Cashew Frosting
makes about 1⅓ cups - This Cashew Frosting is super simple to make, sweetened with dates and requires only 4 ingredients to make! Decadent and thick frosting that is perfect to frost your favorite cakes, cupcakes and cinnamon rolls!
Ingredients  
1¼

cup

raw cashews

6

fresh medjool dates

pitted (about 100g)

¼

cup

vanilla soy milk

⅛

teaspoon

salt
Instructions 
Prepare cashews & dates - In a bowl add cashews and pitted dates. Cover with hot water and let sit for at least 30 minutes and up to 2 hours. Drain well.

Blend - Add soaked cashews and dates to a high power blender with milk and salt and blend until smooth and creamy. This may require some patience based on the blender you are using. Press down the sides as needed and continue till you have a thick and smooth frosting. Resist adding more milk if possible, as this will thin your frosting.

Store - Keep your frosting in a sealed container in the fridge until ready to use. Will keep fresh in the fridge for 5-7 days.
Notes
NOTE- Recipe makes enough to heavily frost 6 cupcakes or a one layer 9 inch round cake. Adjust as necessary.
Join the Newsletter!