The most delicious, caramelized roasted Sweet Potatoes are only a few simple steps away. Once you learn this method of roasting Sweet Potatoes you'll never look back!
(There may be affiliate links in this post. I may earn a commission for qualified purchases with no added cost to you. Thank you for your support!)
Sweet Potatoes are my favorite and I ALWAYS have a big batch prepped and ready to go to add to an easy meal or to whip up a quick batch of Sweet Potato Hummus!
This method of how to quickly roast Sweet Potatoes will easily become your new go-to. It's super low effort, requires no oil and leads to the most sweet, gooey sweet potatoes with perfectly caramelized edges.
Jump to:
How to perfectly roast Sweet Potatoes with no oil
Scrub and wash sweet potatoes very well. Then slice them in half lengthwise.
Place the potatoes cut side down on a baking sheet lined with parchment or a non-stick baking mat.
Roast at 375°F for perfectly caramelized edges and the most gooey, decadent inside.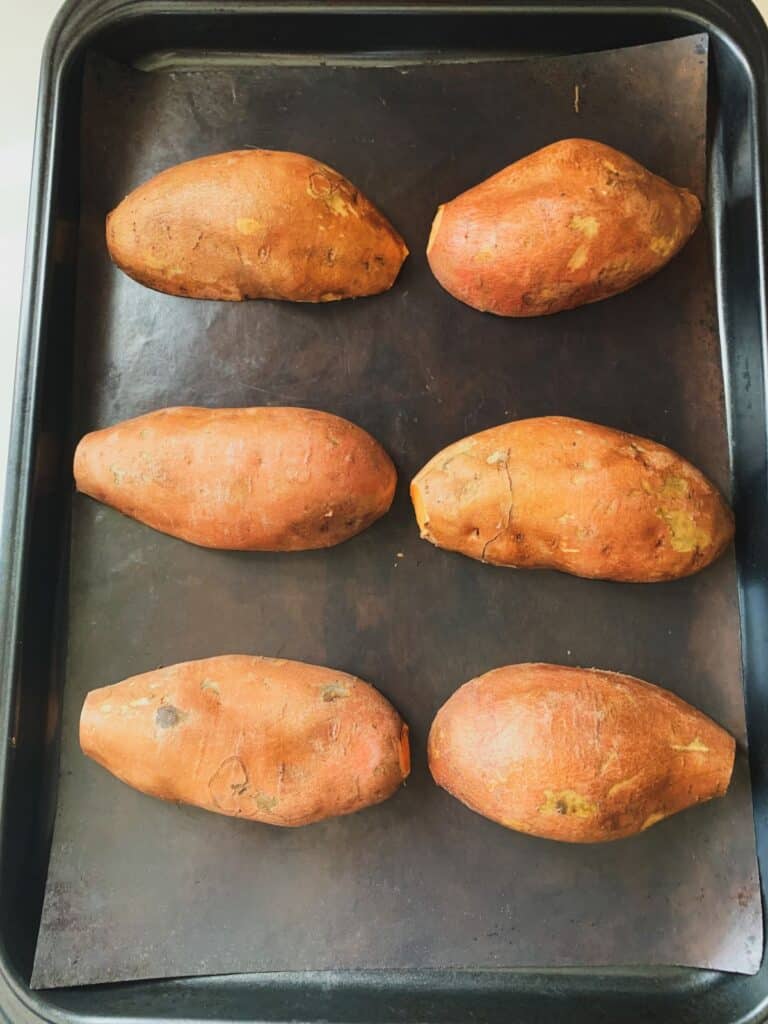 Important Tip!
How you line your baking sheet matters when roasting oil-free. These mats are my absolute favorite for roasting any sort of veggies without oil! They absolutely excel at getting that delicious caramelization on your sweet potato without needing oil. Most silicone mats will not allow you to get a good caramelization (but they will still taste good!)
Note: If you don't line your baking sheets you can choose to brush the cut side of your potatoes with a little olive oil before roasting.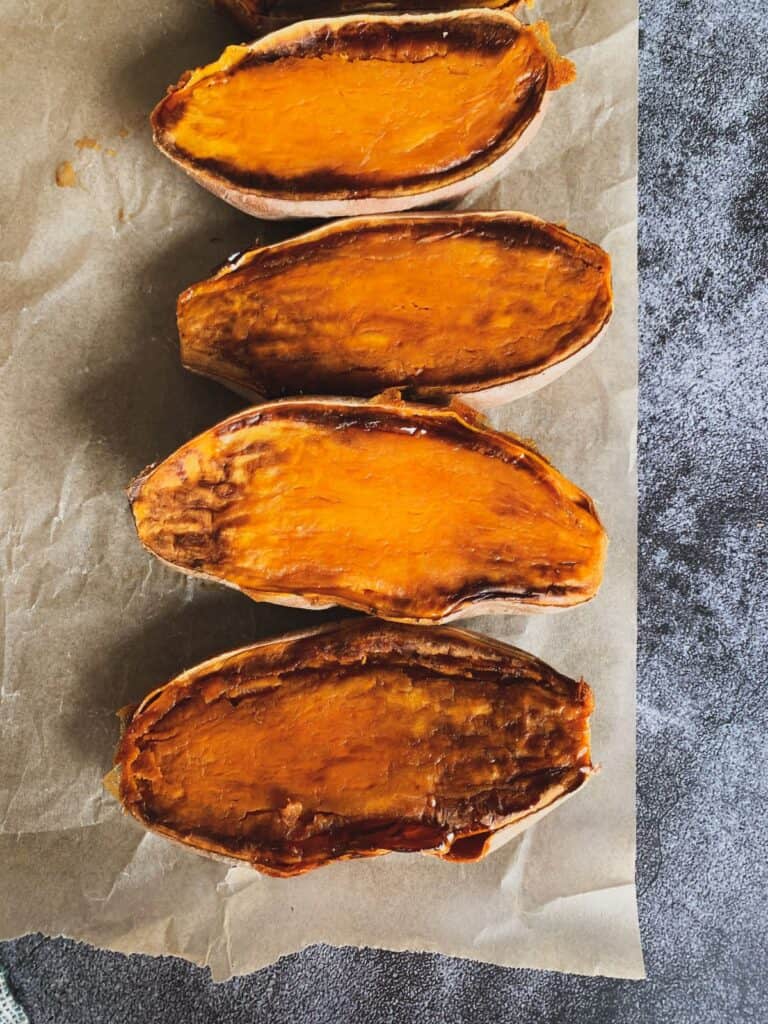 Frequently Asked Questions
How long do you roast your sweet potatoes?
Roasting time for your potatoes will heavily depend on the size of your potatoes. I find that a medium-large potato will be cooked through around the 30-35 minute mark.
How do I know when they are done?
To know that your sweet potatoes are roasted to perfection they need to pass a simple test. When checking potatoes, use a spoon, tong... whatever utensil you have to press the side of the potato. If it squishes without much effort then it's done! Turn off the heat and let them rest for 10 minutes before taking them out of the oven.
Do the sweet potatoes have to rest in the oven?
You can skip this step if you are short on time. However, I have found that letting the sweet potatoes sit in the oven as it gradually cools down for around 10 minutes greatly improves the texture and flavor of the sweet potatoes. Give it a try next time and let me know what you think!!
Can I make a big batch to keep in the fridge?
YES! Please do this! I make a whole sheet pan worth of potatoes at a time and store the cooled potatoes in the fridge for up to 5 days! They become even more delicious the next day.
How to eat roasted sweet potatoes?
These roasted sweet potatoes are so delicious you can enjoy them as is, hot or cold.
Use them to make some Sweet Potato Hummus
Slice and Air Fry at 400°F for 10-15 minutes to warm them through and get a nice crispy edge. Then enjoy tossed over a buddha bowl or salad!
Use them for a delicious twist on some Air Fried Jalapeno Popper Potatoes
Make Breakfast! I love to top them with some granola, a drizzle of peanut butter and sliced banana for a delicious and satisfying meal
Storage
Store cooled, sweet potatoes in a sealed container in the fridge for up to 5 days.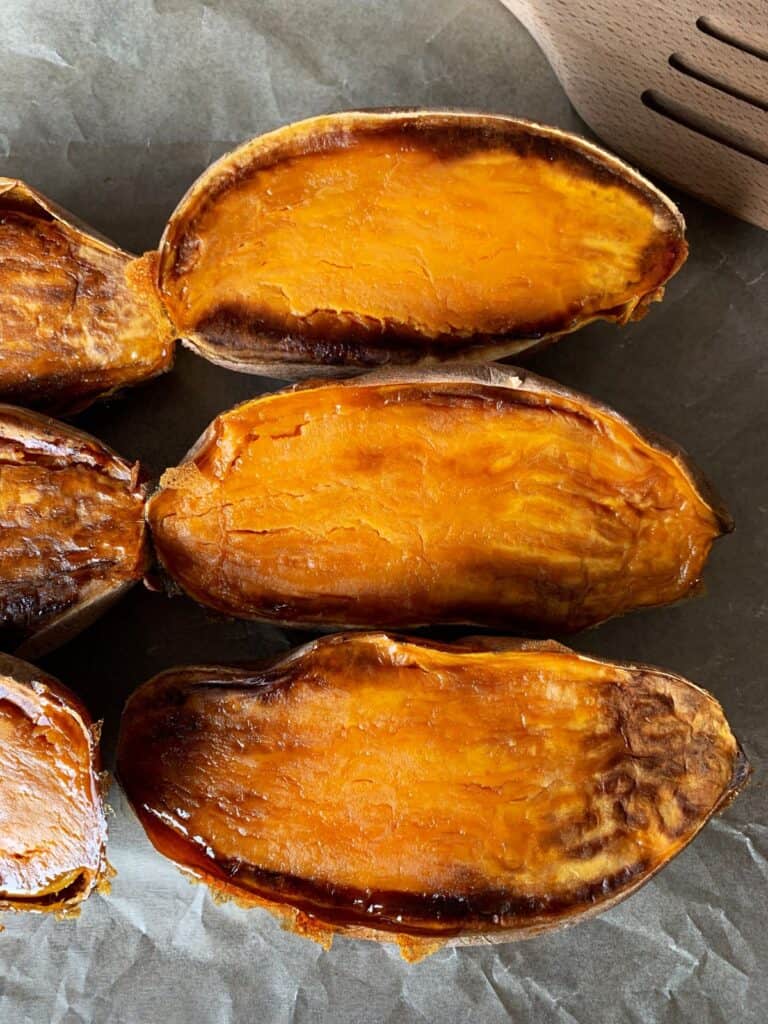 Did you make this recipe? Please leave a comment and ⭐⭐⭐⭐⭐ rating below! Take a picture and tag me on Instagram @samcookskindness !
Recipe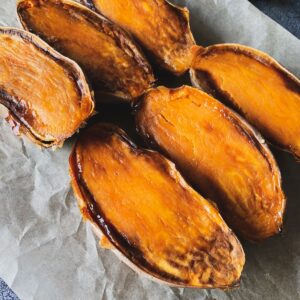 The Best Roasted Sweet Potatoes
Caramelized edges with gooey delicious filling in about 30 minutes!! Great to make ahead for easy meals or enjoyed fresh out of the oven!
Instructions
Pre heat oven to 375°F. Wash sweet potatoes very well and cut in half lengthwise.

Place potatoes cut side down on a parchment lined baking sheet and bake for 30-40 minutes. The size of your potatoes will affect baking time. You know they are finished when they slightly squish when pressed and have some caramelized sugars seen oozing from the edges.

Turn off oven and let the potatoes rest for 10 minutes before removing from oven.
Notes
Storage- After allowing sweet potatoes to completely cool, store them in a sealed container in the fridge for up to 5 days. Left over potatoes are delicious served cold or reheated!
You may also like these recipes!
Subscribe to the Newsletter and never miss a new recipe!